Norm Roberts: Piano Service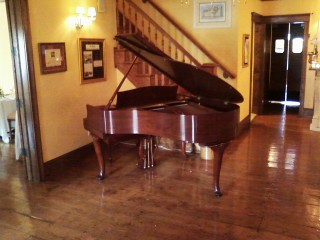 Hello! My name is Norm Roberts. My goal is to provide you with the very best piano tuning and repair services you can find anywhere at the most affordable price . It's as simple as that. Having over 25 years experience in this business has taught me that the key to success is customer satisfaction and that is what I strive to achieve. Whether your piano is a concert grand or a used spinet each piano gets the full attention and care it deserves to make it sound and play it's best!
Tunings are executed with the utmost in care with the intent to provide your piano with the most beautiful, stable, harmonically correct tone your piano is able to produce.
Each tuning comes with a free piano maintenance check-up and most small repairs are free!
When other more extensive repairs are required that usually involve removing the action or keys, or requires partial disassembly of the piano to access the broken or malfunctioning parts, this procedure is performed in timely fashion. Every attempt is made to repair the original malfunctioning parts. If the broken parts cannot be repaired they are replaced with the highest quality, most durable replacement parts available.
Do you have a question?
About piano tunings, repairs, appraisals, humidity control, detailing or any other piano service you are interested in? Give a call and I'll be happy to discuss with you what your piano may need to make it sound and perform beautifully!
---
Piano News and Stories
Play Me, I'm Yours
Touring internationally since 2008, Play Me, I'm Yours is an artwork by British artist Luke Jerram. Reaching over six million people worldwide – more than 1,300 pianos have already been installed in 45 cities across the globe, from New York to London, bearing the simple instruction 'Play Me, I'm Yours'.
Learn more about this story
View more photos
---
More about Pianos