I have been tuning and repairing pianos and providing many other piano services such as appraisals, detailing and installing humidity control units for over 30 years. I believe every job presents an opportunity to for me to provide my personal best.
I studied Piano Tuning and Repair with Ken Churchill RPT at Orange Coast College in Costa Mesa Ca, with Newton Hunt at Rutgers University, NJ and have attended the Yamaha Corp of America's Piano Technology Program for Piano Technicians and I am an Authorized Yamaha Acoustic Piano Service Technician.
I work on both new, used and pre-owned pianos. I am extremely grateful and thankful to have been called to service the pianos for my customers who value quality workmanship in addition to fast and friendly service at a reasonable price. My customers include working and retired professional players, churches, schools, piano teachers, restaurants, community centers, nursing homes, students of all ages, and many other interesting people from all walks of life. I believe every customer is important and deserves both special consideration and the best piano service I can provide.
In addition to operating my own business I have provided tuning/ repair/ warranty service and detailing to many piano retailers in the NY/NJ metropolitan area. Working with these various establishments has provided me with extensive experience servicing Yamaha, Steinway, Boston, Essex, Kawai, Knabe, Young Chang, Mason and Hamlin, Samick, Kohler and Campbell, Story and Clark, Petrof, Wurlitzer, Kimball, Chickering, Sohmer, and many, many other brands of pianos too numerous to mention. There are literally thousands of different brands of pianos that have been manufactured world wide over the past 100 years.
I've also had the opportunity to do a significant amount of work at Rutgers University Mason Gross School of the Arts in New Brunswick, NJ, having had the pleasure to work with the late Newton Hunt and also with the current piano technician in residence, Dave Miller.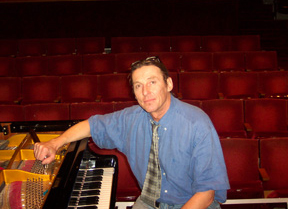 Contact Norm Roberts
Phone: 609-242-3931
Servicing:
Counties such as: Ocean County & Southern Monmouth County
Including such areas as: Toms River, Brick, Jackson, Manahawkin, Forked River, and more.